Dear Strategy:
"What is Strategy Generation Company?"
OK, that's not really a question that was asked. But it's certainly one that you should be asking once I tell you the big news that I have to share!
After 26 years of working for some truly incredible companies, I have decided to go out on my own and start my own business! And that business is called, none other than, Strategy Generation Company! 
So why this and why now?
First – the "why this." As many of you may already know, I have been the president of Sequent Learning Networks for the past 6 years or so. That company focuses in the product management training space, and I consider myself very fortunate to have been able to lend my expertise and passion to this fine organization (who, by the way, were also generous enough to sponsor the first 50 episodes of this podcast). So, much respect all around. But as many of you also know, my true passion has always been focused on the subject of strategy. And through my experience as both a corporate leader and a corporate trainer, I began to see some patterns in companies surrounding this field that I really wanted to address more directly.
Strategy seems to be one of those business skillsets that everyone knows they need, but nobody wants to admit if they don't have. And when this little dilemma permeates throughout a company, they're forced to address their strategic gaps with multi-million-dollar consulting gigs that, frankly, come all too late in the process. Yes, I may be generalizing just a bit, but the core problem as I see it is that not enough companies are making proactive strategy development a core part of their DNA. And, those that try may not be equipping their mid-level managers with all the right tools or training to meet their strategic challenges head-on.
The root cause of this is actually pretty easy to understand. That is, most companies seem to be most interested in "making the month." So their resources are all turned toward selling for today rather than planning for tomorrow. And, when tomorrow doesn't yield the results they need, it's already too late.
The cure to all of this, at least as I see it, is for companies to make strategy a part of their employees' everyday routines. And they won't do that through big consulting projects; they'll do it by providing foundational training and tools to the people who need to be more focused on ongoing strategy development and execution; more specifically, their product leaders, their marketing leaders, and their business unit and functional leaders. When you turn those resources away from fighting fires, and more toward planning for the future, companies gain far more strategic focus without even having to try too hard. And, the best part is, that focus will automatically be bought into by the company's employees because it will have originated from those employees in the first place.
Win, win, and win.
So that, in a nutshell, is the core product that we want to provide through Strategy Generation Company – strategic tools and training for product leaders, marketing leaders, and business leaders. Our programs are affordable, effective, and accessible. And they are designed to provide a strong strategic foundation within any organization so that developing a strategy doesn't become a one-time event.
And what about the "why now?" Well, why not now? I know I may be taking a leap in trying to sell companies on training that they probably aren't waking up in the morning thinking they need. But somebody has to lead the way. So why not us?
So, you're now reading the official blog of Strategy Generation Company! (And hopefully you're listening to the official podcast as well!) Starting with next week's episode, we'll go back to our regular format – although we will be moving the podcast to Mondays. Other than that, it will be the same show you've hopefully come to know and love – just with a new owner, a new logo, and hopefully lots of new insights as we continue on our journey toward making strategy a more integral part of every company's everyday life.
Listen to the podcast episode
Dear Strategy: Episode 051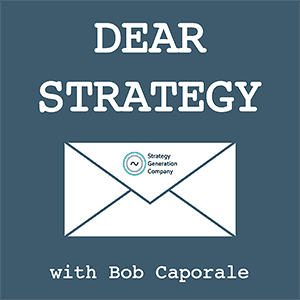 ###
Bob Caporale is the founder of Strategy Generation Company, the author of Creative Strategy Generation and the host of the Dear Strategy podcast. You can learn more about his work by visiting bobcaporale.com.