Dear Strategy:
"What is the best tool for non-strategist product managers that need to do a better job with their product strategies?"
Just like last week's episode (which you can find by clicking here) this is another great straightforward question. So, just like last week's episode, I'll try to give another (hopefully great) straightforward answer. But not before clearing something up.
There is no such thing as a "non-strategist product manager." Or at least there shouldn't be. Strategy is an integral part of every product manager's job. So please don't be confused by the way in which this question was asked.
OK – with that out of the way, I assume that the person asking this question is referring to a product manager that doesn't have any formal background in strategy. So, let's move on to some tools…
There are SO many great strategy books and frameworks to choose from, but I'll list the ones that I have found to be the most useful throughout my career I'm also providing the applicable unaffiliated – meaning, I don't make any money off them – links for your reference and review.
Classic Classics
Corporate Strategy by H. Igor Ansoff
Competitive Strategy by Michael E. Porter
Competitive Advantage by Michael E. Porter
The Rise and Fall of Strategic Planning by Henry Mintzberg
The Mind of the Strategist by Kenichi Ohmae
The Balanced Scorecard by Robert S. Kaplan and David P. Norton
Modern Classics
Strategy Safari by Henry Mintzberg, Bruce Ahlstrand, and Joseph Lampel
Good Strategy Bad Strategy by Richard Rumelt
Blue Ocean Strategy by W. Chan Kim and Renee Mauborgne
Playing to Win by A.G. Lafley and Roger Martin
Your Strategy Needs a Strategy by Martin Reeves, Knut Haanaes, and Janmejaya Sinha
And, Of Course…
Creative Strategy Generation by Bob Caporale
OK, so that last one I might make a little money on. But, believe me, very little!
In any case, you won't go wrong with any of these books – each of which contain a plethora of tools, frameworks, references, and case studies. So go ahead and check them out.
And if you have a favorite book or tool to add to the list, feel free to leave it in the comments.
Listen to the podcast episode
Dear Strategy: Episode 025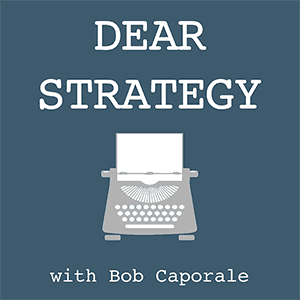 ###
Bob Caporale is the author of Creative Strategy Generation and the host of the Dear Strategy podcast. You can learn more about his work by visiting bobcaporale.com.